NOW UPDATED TO INCLUDE 2010

The order is alphabetical. If you want to decide who should get top billing among these comedians, you're a better man than I, even if you're a woman.
Ginger & Black
Miller & McEvoy
Oram & Meeten
Mallory & Mr Flute
Stu & Paul
Diane Adams
Rohan Agalawatta
Yianni Agisilaou
Scott Agnew
Mark Aiken
Peter Aitchison
Luis Alberto
Steven Allen
Stephen K Amos
Reg Anderson
Graham Anthony
Anton
Dan Antopolski
Helen Arney
Bennett Arron
Geoff Aymer
Katie Bagshaw
Jim Barclay
Hils Barker
Alistair Barrie
Martin Beaumont
Mike Belgrave
Antoinette Bell
Tom Bell
Mitch Benn
Sarah Bennetto
Byron Bertram
Paul Betney
Alison Bice
Cameron Blair
Matt Blaize
Marc Blake
Ian Boldsworth
Duncan Bolt
Andy Bone
Robbie Bonham
Addy Borgh
Marcus Brigstocke
Eddie Brimson
Noel Brittan
Neil Bromley
Jem Brooks
Spencer Brown
Gordon Brunton
Brendan Burns
Greg Burns
Tom Burns
Dave Bushell
Papa C J
Chris Cairns
Craig Campbell
Jaik Campbell
James Campbell
Rowan Campbell
Johnny Candon
Jimmy Carr
Carolyn Castiglia
Paul Chowdhry
Damian Clark
Macrae Clarke
Die Clatterschenkenfietermaus
Caroline Clifford
Alun Cochrane
Julian Constant
Jason Cook
John Cooper
Nik Coppin
Wayward Council
Benjamin Crellin
McKenzie Crook
Matthew Crosby
Laurie Crowter
Hal Cruttenden
Mickey D
Brian Damage
Rhys Darby
Greg Davies
Mick Davies
Marlon Davis
Steve Day
Tom Deacon
Rob Deb
Dimitris Deech
Rob Deering
Gary Delaney
Richie Devlin
Bill Dewar
Kevin Dewsbury
Max Dickens
Barry Dodds
Michael J Dolan
Carl Donnelly
Don Dooby
Nick Doody
John Dorney
Neil Dougan
Tiernan Douieb
James Dowdeswell
Rhonda Downie
Jeff Downs
Duff
Thomas Duncan
Dougie Dunlop
Keith Dunn
Paul B Edwards
Miriam Elia
Jeremy Engler
Eric
Simon Evans
Diva Eve
Tommy Fate
Judith Faultless
Jarrod Fitch
Mickey Flanegan
Mark Fleischman
The Fluffy Brothers
Vince Fluke
Nic Ford
Electric Forecast
Graham Foster
Stewart Francis
Chris Franklin
Susanne Fraser
Dominic Frisby
Bruce Fummey
Viv Gee
Roland Gent
Zeron Gibson
Ewen Gilmour
Janey Godley
Pete Gold
Ronnie Golden
Stuart Goldsmith
Sam Gore
Matt Green
Bruce Griffiths
Toby Hadoke
Dean Hagland
Roger Hailes
Steve Hall
Justin Hamilton
Timandra Harkness
Natalie Haynes
James Hazelden
Joe Heenan
Rob Heeney
David Heffron
Darren Henwood
Geraldine Hickey
Brian Higgins
Adam Hills
Tony Hindle
Ruth Hine
Nick Hoare
Nick Hodder
Wil Hodgson
Matt Hollins
Sally Holloway
Eddie Hoo
Stuart Hudson
Steve Hughes
Hazel Humphries
Rob Hunter
Danny Hurst
Robin Ince
Danny James
Noel James
Jim Jeffries
Lucy Jennings
Alfie Joey
Pete Jonas
Ardella Jones
Raybon Kan
Jonno Katz
Jason Kavan
Rob Kayne
David Keay
Les Keen
Adam Keiley
Noel Kelly
Paul Kerensa
Steve Keyworth
Matt Kirshen
Daniel Kitson
Shappi Koshandi
Jeff Kreisler
Otto Kuhnle
Lloyd Langford
Dave Langley
Marty Lappan
Marek Larwood
Andy Laud
Tony Law
Iszi Lawrence
James Lawrence
Christian Lee
Joey Lee
Michael Legge
Lehmo
Paddy Lennox
Harman Leon
Slaughterhouse Live
Trevor Lock
Josie Long
Brendhan Lovegrove
Austen Low
Matt Lucas
Marc Lucero
Marcel Lucont
Zoë Lyons
Caroline Mabey
Donald Mack
Mike Manera
Dan March
Alex Marion
Amadeus Martin
Chris Martin
Darrell Martin
Carey Marx
Brett Matthews
Alek Maxwell
Andrew Maxwell
Jonathan Mayor
Keir McAllister
Kevin McCarron
Kevin McCarthy
Ian McDiarmid
Angie McEvoy
Neil McFarlane
John McGuinness
Jackson McLeod
Grant McManus
Vladimir McTavish
Raymond Mearns
Wouter Meijs
Men with Bananas
Nathaniel Metcalfe
Spiky Mike
Dan Mitchell
Nick Moffat
Adam Montgomery
The Moonfish Rhumba
Alfie Moore
Martin Mor
John More
Gareth Morinan
Tim Motley
Mandy Muden
Katie Mulgrew
David Mulholland
Keara Murphy
Susan Murray
Andrew Murrell
Ciaran Murtagh
Alex Musson
Sandy Nelson
Lee Ness
Gary Newbon
Mrs Barbara Nice
Ross Noble
Duncan Oakley
Obie
Em O'Loughlan
Andrew O'Neill
Steve Oram
Meryl O'Rourke
Colin Owens
Wes Packer
Henry Paker
Pappy's Fun Club
Geoff Parfitt
Cole Parker
Cornish Patsy
Jonathan Paylor
Matthew Perret
Lenny Peters
Ed Petrie
Janice Phayre
Philberto
Abie Philbin-Bouman
Martin Pickles
Robbie Pointer
Lucy Porter
Stuart Potter
Adrian Poynton
Matt Price
Tom Price
Neutron Puberboober
Radar
Colin Ramone
Howard Read
Brendan Reilley
Quentin Reynolds
John Robertson
Drew Rokos
Patrick Rolink
Jem Rolls
Paul Rose
Rob Rouse
Joe Rowntree
Russell Roy
Andrew Ryan
Richard Sandling
Mick Sargeant
Christian Schulte-Loh
John Scott
Club Seals
Neil Shackleton
Steve Shanyaski
Alan Sharp
Doug Shelmerdine
Kevin Sherwani
James Sherwood
Colin Simpson
Paul Sinha
Skank
Skinny Bitch Jesus Meeting
Jill Smith
John Smith
Kate Smurthwaite
Jay Sodegar
Gordon Southern
Kevin Spence
Liz Stephens
Tiffany Stevenson
Ashley Storrie
Kev F Sutherland
Isy Suttie
Rob Tarbuck
Gus Tawse
Graeme Thomas
Matt Tiller
The Toothpaste Expedition
John Torrens
Gareth Tunley
Kent Valentine
Andy Vaughan
André Vincent
Joel Walmsley
Seann Walsh
Colin Ward
Danielle Ward
David Ward
Andy Watson
Nathan Webb
Henning Wehn
Luke Whitby
Jason John Whitehead
Geoff Whiting
Mike Wilkinson
Peter Willey
Dave Williams (Aus)
Dave Williams (UK)
Dan Willins
Dan Willis
Brent Wilson
Joseph Wilson
Marty Wilson
Randy Wilson
Nick Wilty
Todd Womack
Glen Wool
Luke Wright
Steve Wyner
Jake Yapp
Andy Zalzman
and, the only one of these excellent comedians to get a special mention, the late ZED S, who helped start the show off many years ago.


MITCH BENN at the post-Fringe party, 1998





GORDON BRUNTON at the last night of PBHASC 1998; hence the kilt





SANDY NELSON at PBHASC, 1998





RADAR, from NZ, and friend, and dirty raincoat





TREVOR LOCK, and microphone of better quality than he found at PBHASC





JANEY GODLEY, on no particular occasion




NOEL JAMES, praise be unto him.





SALLY HOLLOWAY, in memory of the two-way mirror. A palpable hit at PBHASC 2000.





KEVIN SHERWANI. Welcome to the house of teeth.





JAMES CAMPBELL. Comedy for adults and incipient adults.





MIKE BELGRAVE. Camden Townie and general all-round person.





IF YOU'RE ONE OF THOSE ON THE LEFT, LOOKING FOR YOUR OWN NAME (AND WE KNOW YOU DO) SEND US A PHOTO FOR THE GALLERY HERE. ALSO SEND US YOUR WEB SITE ADDRESS SO WE CAN LINK TO IT.




Between them, this lot have won more awards than you could shake a stick at.
Two of the artistes above (Gordon Brunton and Dave Williams) have the coveted (by whom exactly?) ever-present merit badge, i.e. have played PBHASC in all its FOURTEEN years so far.

All the above comedians are entitled to this badge: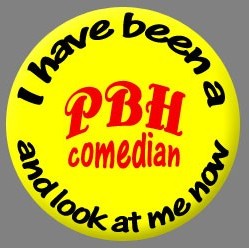 so, if you have not got yours, please email me to make arrangements. Like an Olympic gold medal, there's only one way of earning this.
Apologies for any omissions; if you should be on this list, please email Peter Buckley Hill and you will be put there forthwith. Same deal with mis-spellings.
If you're not a performer and want to VOTE for your favourite among these, please email here and say who you particularly liked. I'll try to get them back in 2011. (I've said this every year so far, and only one vote has ever been received -- the score is Zeron Gibson 1, Rest of the World 0.) If you want to vote for the one you liked least, don't bother; fuck off and criticize a show where you paid to get in. If there are enough votes, I'll tabulate them on a link from the home page.

BACK TO PETER BUCKLEY HILL'S HOME PAGE.